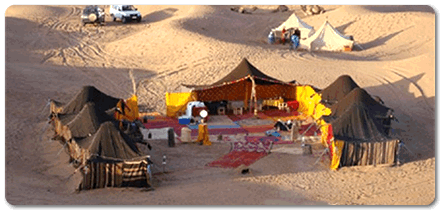 Located at the foot of the dunes of Morocco at 300 metres. The bivouac tents was built by nomads in fur of goats or camels and a mixture of wool, reinforced with a wooden frame.
You will find all the necessary comforts to pleasantly stay in this traditional habitat: blankets, sheets, mattresses are provided. The tents are not connected to electricity. However small sconces provide necessary lighting. The sanitary facilities (showers and toilets) are present on the site.
To brighten up your stay in our bivouacs, traditional folklore Moroccan will be here to relax and immerse yourself in the mysterious night starry desert. Dinner, night, including breakfast.
If you want to stay in our bivouacs, tell us the number of people, the number of nights you want, your place of departure and the choice of transport (camels or 4 x 4).
Departure to the bivouacs can be done from Zagora or M'hamid.
If you come from Ouarzazate or Marrakech, we can arrange your transport for you.
BIVOUAC LES CHANSONS DU VENT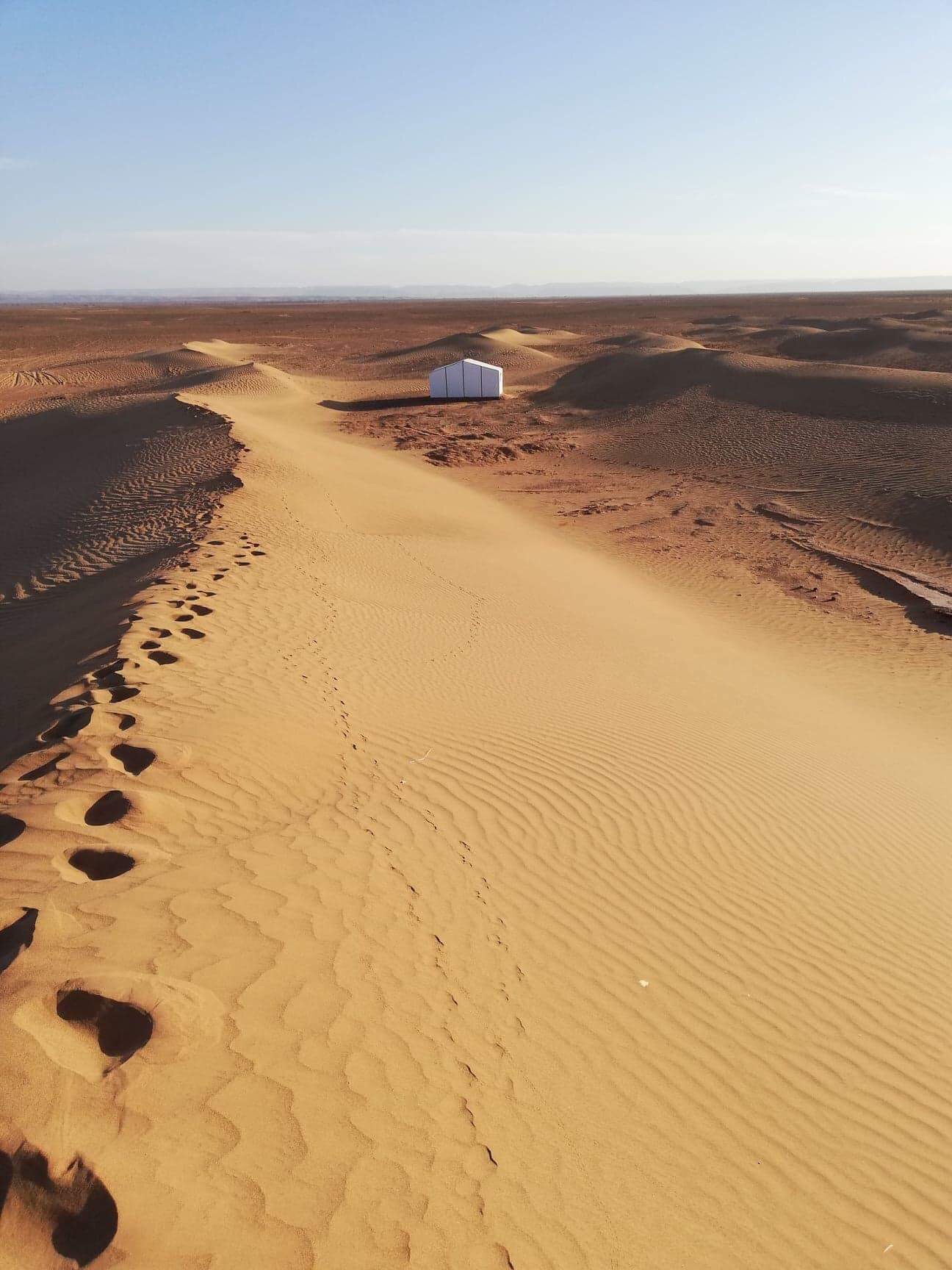 The desert camp is built by marocberberetours in april 2018. In bivouac les chansons du vent you experience the tranquility of the Sahara more intense than in a hotel, while the camp offers the luxury of a 3-star hotel. The camp is equipped with sleeping tents with comfortable beds, between the sand dunes overlooking the dunes of Bertam and with views of Jbel (mountain) Bani. In the camp are showers, toilets, a restaurant with kitchen on solar energy and a shed for our  dromedaries. Our chef cooks up delicious meals on the table every day and our guard and Dromedary attendant are there for you every day for all your questions and wishes. In each tent are books, fiction and non-fiction in the Dutch, English and French. Wi-Fi is available on request. If you wish to stay here, please give us the number of people, the number of nights, your place of departure (Zagora or Mhamid) and your transport choice (drommedary or 4 x 4). If you from Marrakech or Ouarzazate, we can arrange your transport.
In the camp we also organize yoga retreats and every year comes a fixed customer for a short week digital Detox. The desert makes you realize how everything starts with yourself. There are no excuses, no distractions. A week long here are let what in you live, bright, making you realize what's really important to you in your life.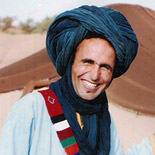 Ahmed
the guide
We offer sedentary bivouacs in the Moroccan desert: a traditional Berber home spacious and comfortable installed in the desert
Information or reservation?